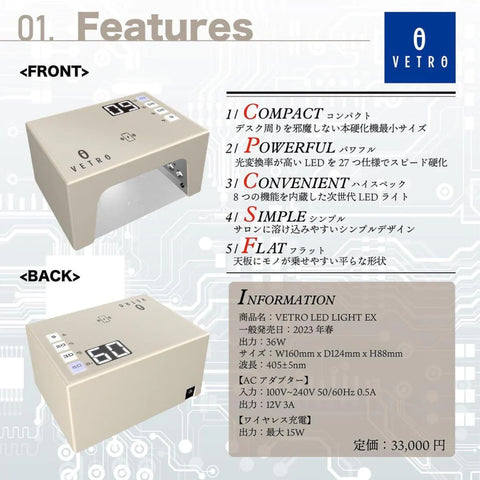 VETRO LED LIGHT EX
Introducing the new VETRO LED Light EX – the compact and mighty LED lamp you've been waiting for.

1. COMPACT
The smallest full-size curing unit.

2. POWERFUL
It has 27 LEDs with high light conversion rates for fast curing.

3. UNIQUE FEATURES
Next-generation LED light with 8 built-in functions.

4. SIMPLE
The minimalist look blends into any table setup.

5. ERGONOMIC DESIGN
The flat top can be extra space to keep products or tools.


Specifications
Dimentions: 160mm x D124mm x H88mm
Power consumption: 36W
Adapter input: 100V-240V
Frequency: 50/60 Hz
Wavelength: 405+5nm
Output: 15W (Wireless phone charging)

Professional LED lamp
VETRO LED light EX is not cordless/rechargeable.


Features

It has a time counter display and four buttons, each function as follows. 

Power on-off/
Low heat curing button (60s)

Auto mode on-off/
Regular curing button (30s)

Switch display direction/
Fast curing button (20s)

Sound on-off/
Flash curing button (5s)

LED light EX also has a wireless phone charging port. The metal bottom with a finger guide is removable and has retractable legs.